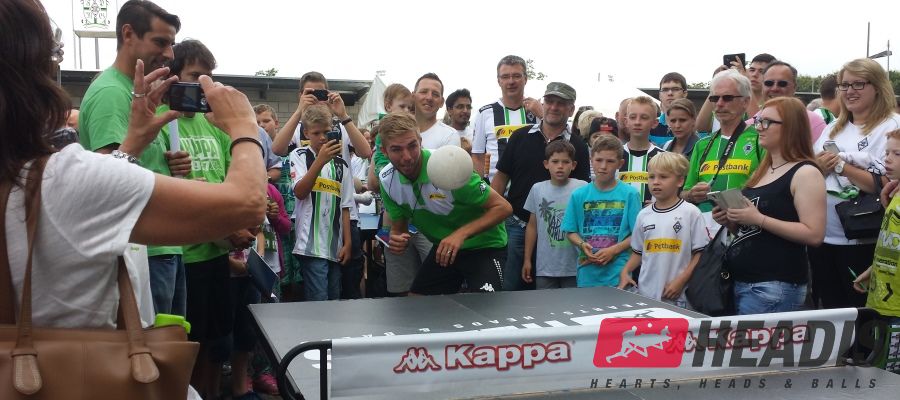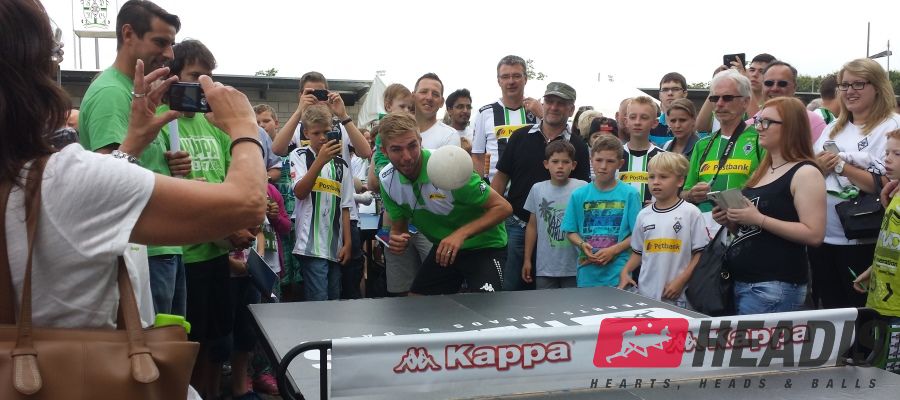 Next to table tennis where Headis adopted the infrastructure and the basic rules Headis implements an element of Germanys sports No. 1: Football.
The only way to play the ball is with your head. This interface in addition to the high physical demand lead to several cooperations since the beginning. Already in 2009 Headis was part of the season opening of 1.FCK. The fans were excited to play that new sport and they are ever since. This was the start of a great collaboration.
The professional FCK-squad used Headis to prepare for the season 2011/11 in their training camp instructed by René Wegner. In summer 2014 there were two table tennis tables implemented in the youth training center of 1.FCK. These tables are used especially for the header training. Meanwhile the professional teams of Hannover 96, Mainz 05, BVB, Schalke 04 use Headis as a part of their training. The 1.FCK and SV Darmstadt 98 have own Headis sections.
Trainer Jürgen Klopp about Headis: "I am sure that Headis improves the header as a playful part of soccer."
Thomas Tuchel is excited about Headis as well. He talks about the diversity and high demand of the game that trains the header: Thomas Tuchel talking about Headis
Several scientific studies have been made regarding Headis. Together with the youth team of 1.FCK ist was proved that Headis improves the header in soccer. Especially the accuray is getting way better.
Even football world champion Christoph Kramer already played Headis at the season opening in Gladbach. The players really wanted to play and directly got extremely ambitious.