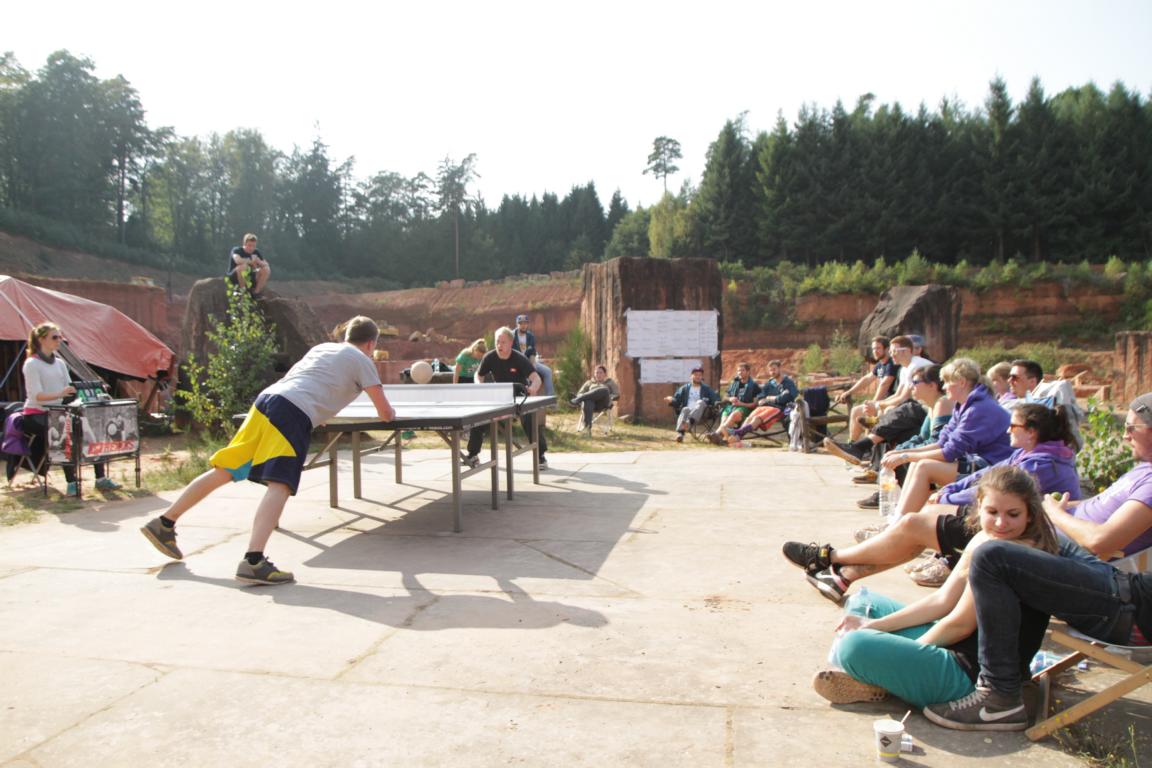 Headis in a stone pit
Picture: HEADIS
The scenery was perfect to award the most important title in the HEADIS-Circus after the world championship on the past weekend. An mysterious path of golden sand led 30 participants of the MASTER HEADIS in 2014 by a big stone gate to an unreal scenery which may be classified into the category "special". A gigantic stone quarry in the woods southern of Kaiserslautern stretched itself out before the men and women who had qualified in 2013 for the prestigious tournament. Only the best players from the last year compete with each other more than two days in the dust of the stone quarry to take the glorious tournament victory home with them!
However, this is easier said than done with the elite participant field of this tournament. 16 players from the top 20 of the world rankings participated, under it the world's number one Headis player and world champion of 2013 "Headsinfarkt" (Cologne), the world champion of 2012 and 2014 "Heineken" (Goettingen), titleholder "Headbrötchen mit Zwiebeln" (Cologne), the newly-wed champion with the Headness "Lauchgesicht" (Goettingen) and of course the inventor of the play himself, neo-German "Headi Potter" (Kaiserslautern). Also with ten women almost everything was present what is of honor, standing and reputation. At short notice merely "Eligator" (Goettingen) had to call off her start.
First, however, the women searched their champion and on this weekend there was no way to pass by "Red Hot Chilli Headers missing Pepper". This also had to be recognized by "Schmoffkopf" without envy, as she congratulated the inhabitant of Saarbrücken to hard and great match that ended with a tournament victory. Afterwards it was even more intense with the men. "Lauchgesicht" won his first set and also played a precise and sharp ball in the second set. Nevertheless, "Headbrötchen" gave his best once again and won the second set. "Lauchgesicht" stayed unimpressed and hardly made any mistakes and again served his volleys with deadly precision. At the end "Lauchgesicht" could celebrate for the second time within two weeks and may be called HEADIS MASTER 2014 until the next tournament! The places three and four went to "Headsinfarkt" and "Wurstverkäufer" for the men and "Headinho" (Goettingen) and "Red Hot Chilli Header" (Saarbrucken) for the women.
Oh, the last place and the price of the best player's name went in the local hero "McLovin, die ausgeleierte Dreilochstute" (Kaiserslautern). Good job, boy!
---
---