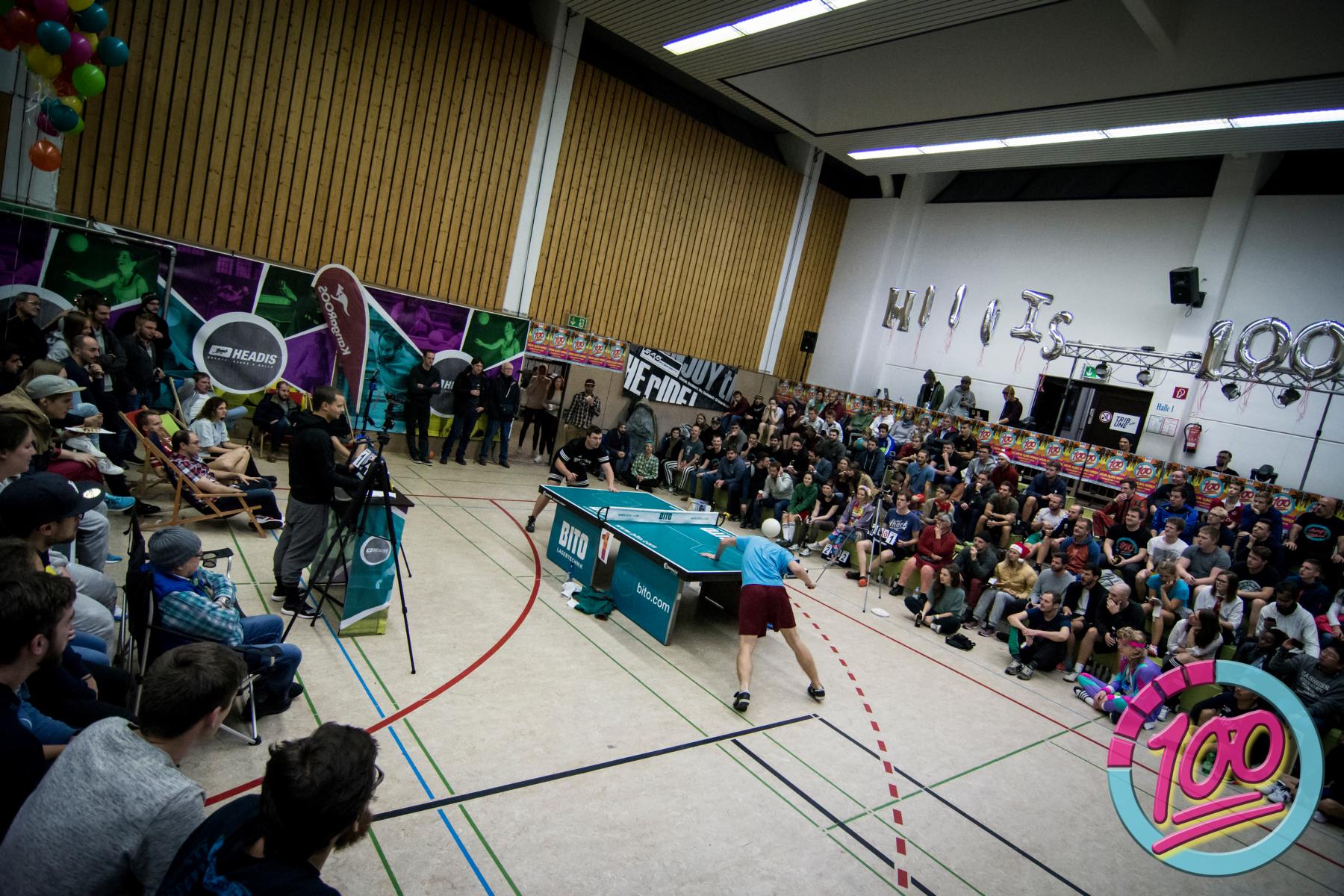 All eyes on one table
Picture: Falk Venten
Alter, was war das denn für eine Nummer am Samstag?
We finally packed all our things at Unisport Kaiserslautern. Everything is cleaned up, there are no ballons on the ceiling anymore and things start to get normal again. Time for a review via text before the Top 10, the pictures and the edit follow!
The anticipation was massive! Nobody wanted to miss this day! Press and TV were ready, tons of specials were planned and some guys even came from Japan to Kaiserslautern!
Many of you guys already arrived on friday, hung out and played some ball. Saturday started at 9am and lasted until 5 in the morning! 20 hours of Headis! 20 hours with laughter, celebration and even some tears of joy! Weeks ago it was clear that 200 players would come to the tournament so we set a new record this day!
One of the many highlights was the honour of two awesomd players that became Hall-of-Famers! The first player came to Kaiserslautern just to be part of the tournament – not to play. After two injuries he had to quit his carreer but he still is part of Headis! He just got another beer while he realised that René was talking about him. New in the Hall of Fame. As proud as surprised: Bud Header!
The next honour for the Hall of Fame was a bit shorter. Lots of ols stories were prepared e.g. how one man got new nets and attached them during the first public Heads Tournament or how the same man drove miles and miles at the steering wheel of the first Headis Bus. René couldn't bring himself to say this anymore. Tears of joy and the picture of Rolli the Butcher held into the air were worth much more than any laudation!
Previously the speech about eleven years of Headis was about motivation! Every player has his own motivation to play and spread Headis. Some guys make it to every single tournament, some just play a few because they have other obligations, some don't play for a whole year and some just play privately with their friends. But all of you share the same passion! No surprise that even some guys of the very first Headis World Championship came to Kaiserslautern for this occasion 11 years later! Once  Headis-player, Always a Headis-player!
THE Highlight came right after the speech. Then the sentimental part of this text of this so unique tournament is over.
René thought that the auction for Headição was about to start as the lights went out. But something else followed! Old friends and companions were asked to send some greetings from around the world. Without warning the video was just shown. It was enriched with the best scenes of 11 years of Headis! It took weeks to pick out all those little highlights and star director Michael Headson created a masterpice. Goosebumps!
The speechless Headis-Inventor passed the mic to the Wurstverkäufer who hosted the upcoming auction. The original shoes from Miroslav Klose were purchased for 150€ by our friends from Japan!
Of course we also played some Headis! Headsinfarkt wins the 100th tournament and the guys ranked in the same order as in the Annual Ranking: 1. Headsinfarkt, Sebastian Headdel, Sniper Schorsch, Pressure Pete. We're looking forward for the Top 10!! The girls were a bit more garbled. Cabezaza defeated World Champion Klausi and became 3rd against Mini Milk. The final was Head Sparrow against Tableminne from Czech Republic. Tableminnie was encouraged by her mates, coached by DJ Bohys and filmed by Ales Karasek. This combination enabled the second tournament win for the czech girl! It sounds so pleasant but it also is a huge step for Headis. International players that have so much fun playing, training really hard and reach international top level!
We went on blow on blow! Winners ceremony, Best Dress (Attentheader as a great Obelix) and Tombola-prizes for all the great costumes! Deconstruction. Party! Mini Milk and Headhog get their Masters-Wildcards and DMO presents a great live Hip-Hop-Act!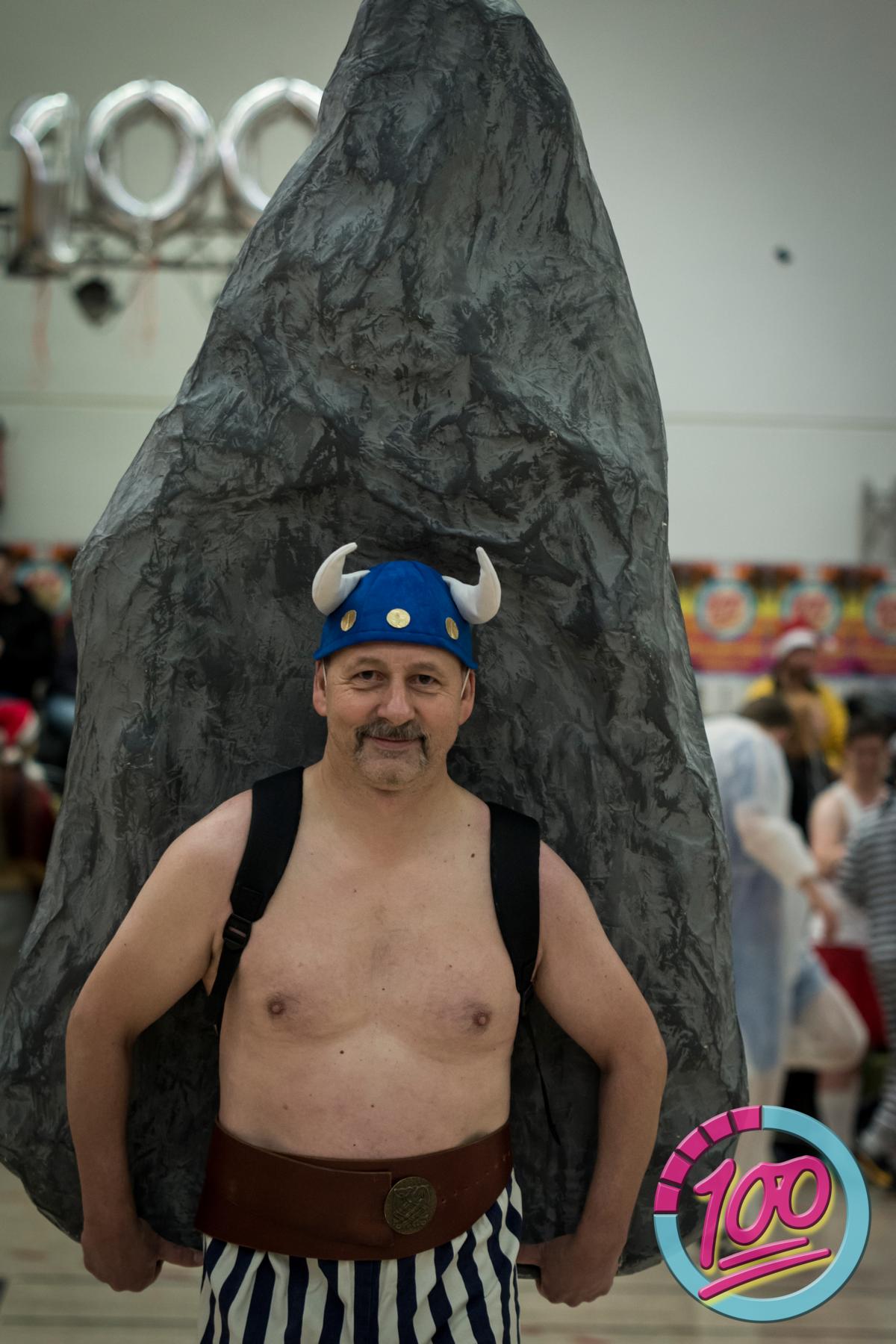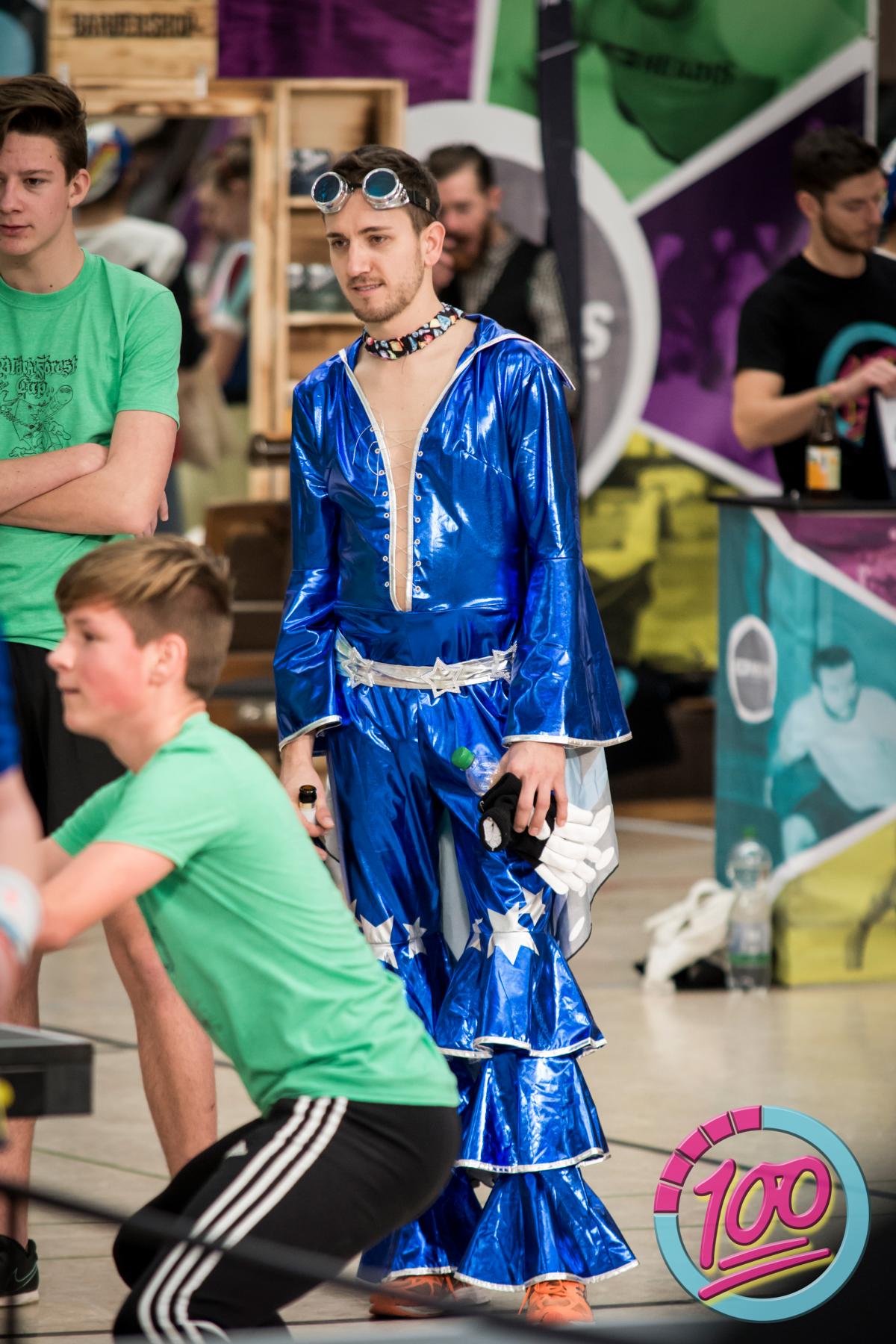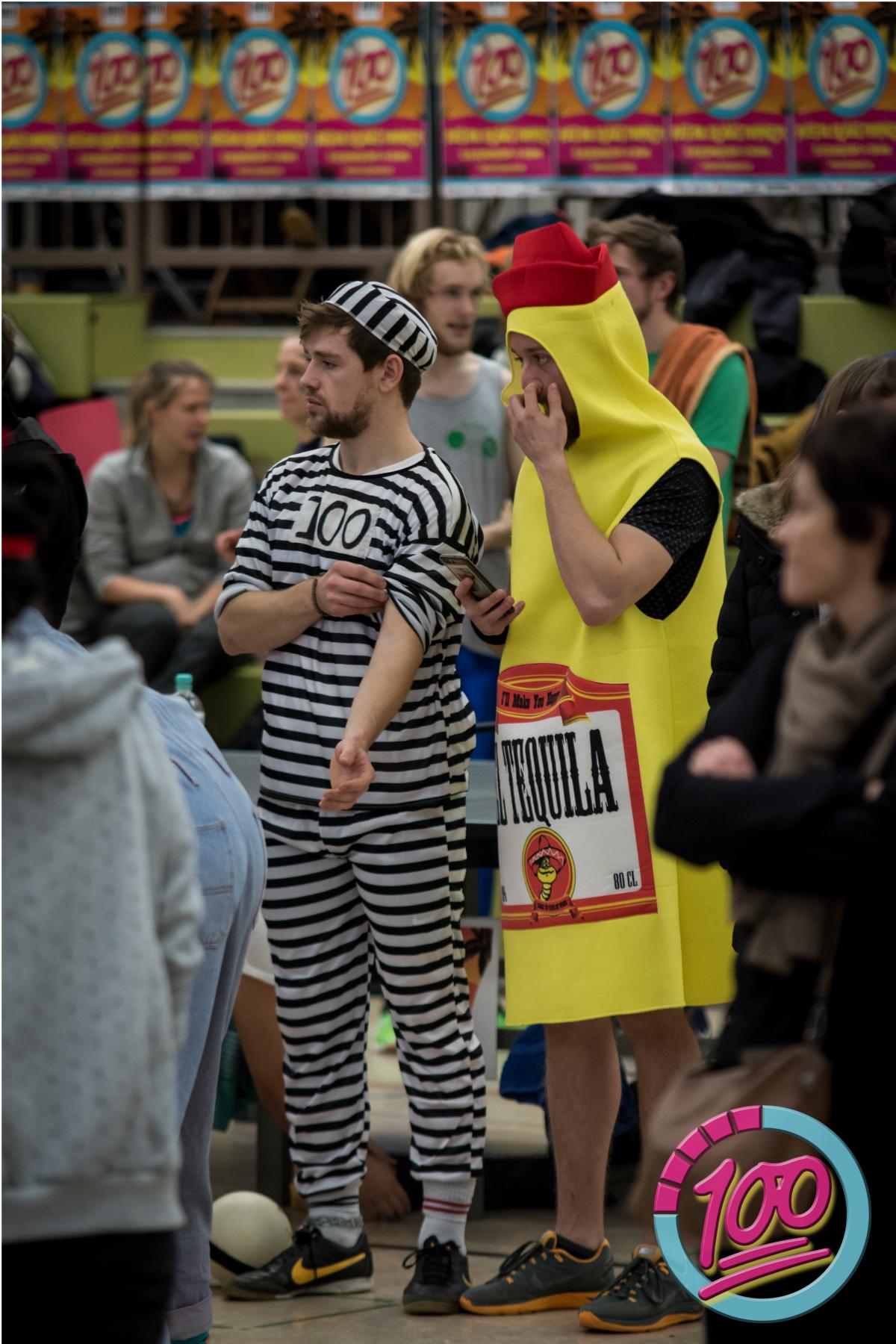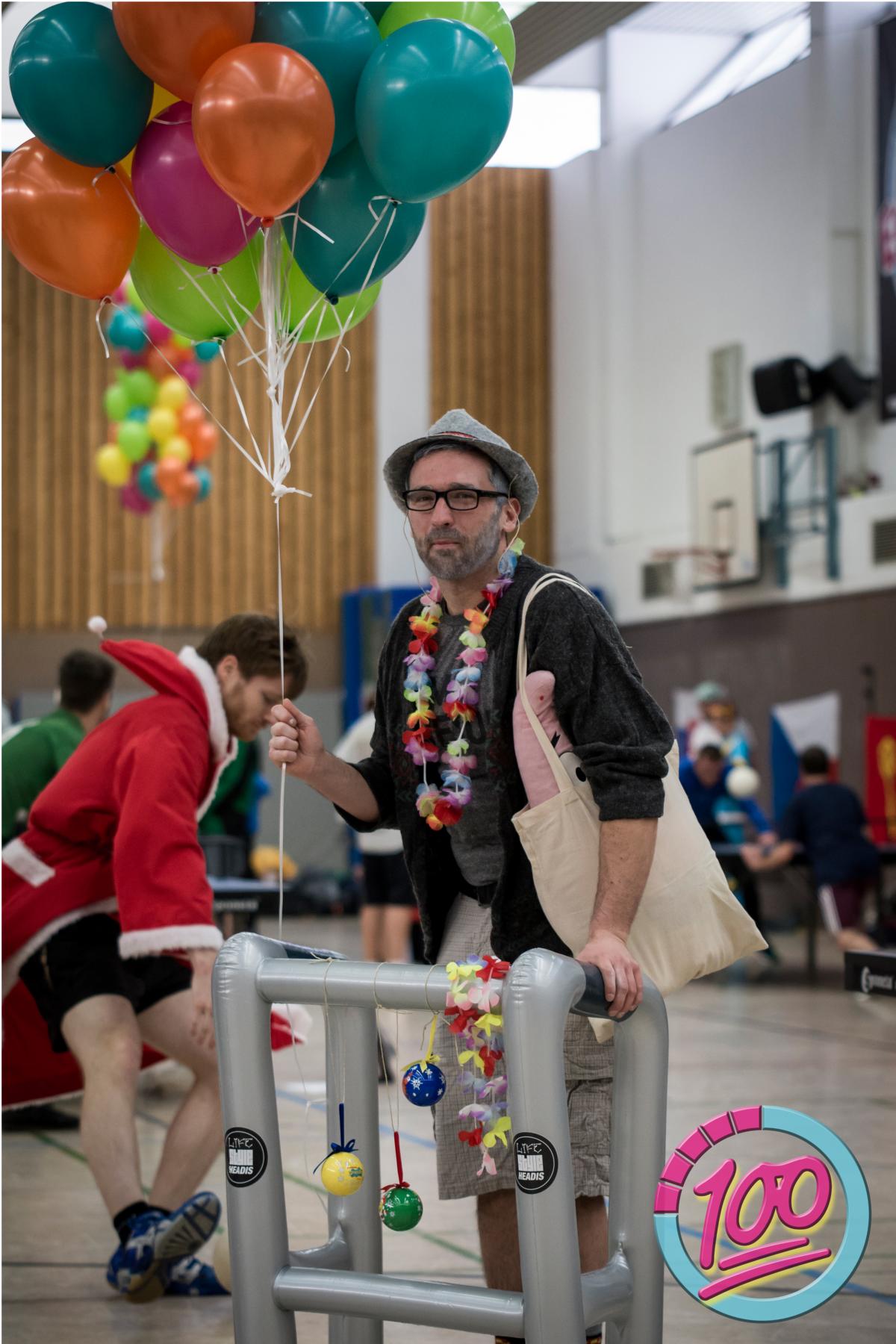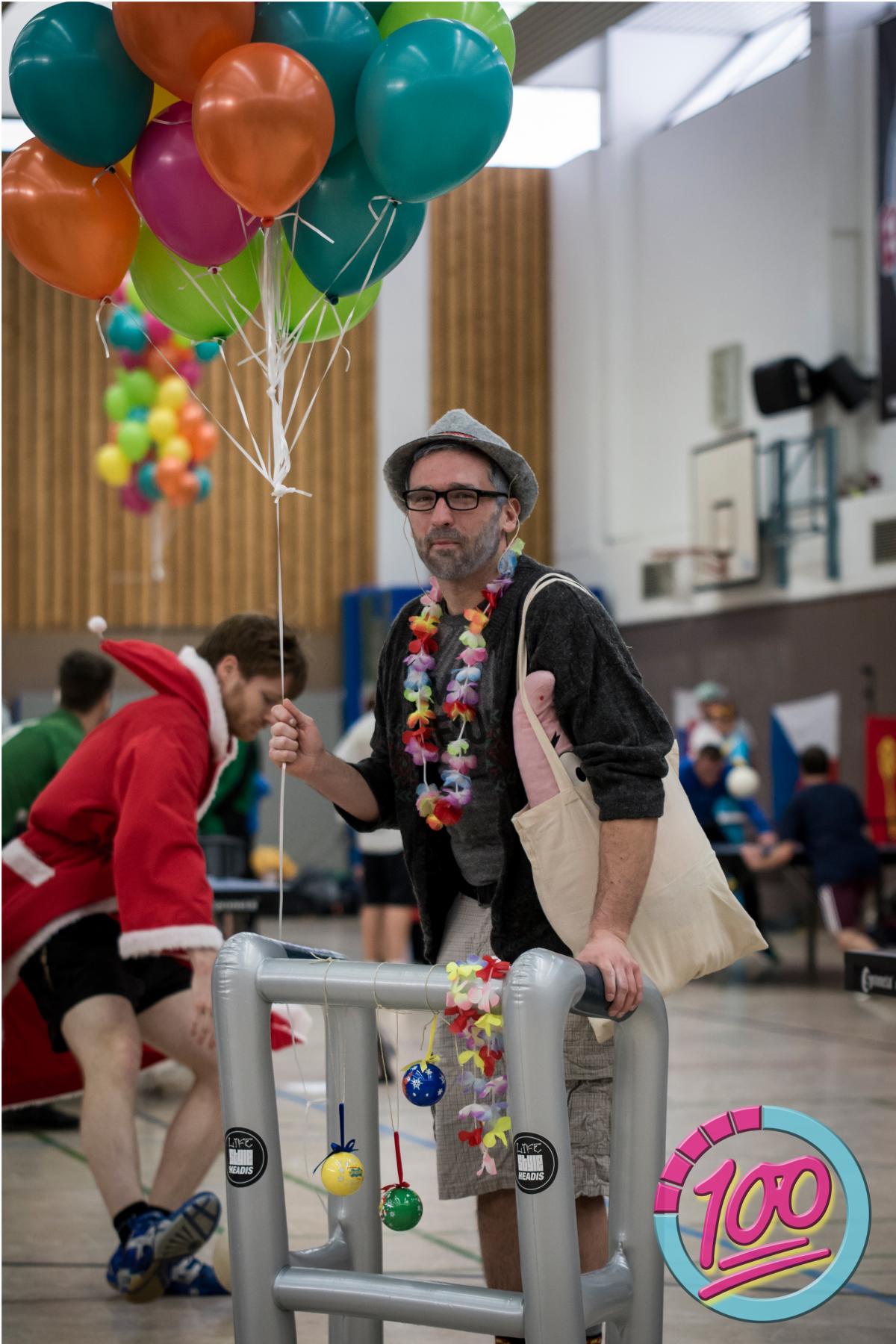 As always we can only say: Thank you for making Headis this awesome movement it is!!!
---
---