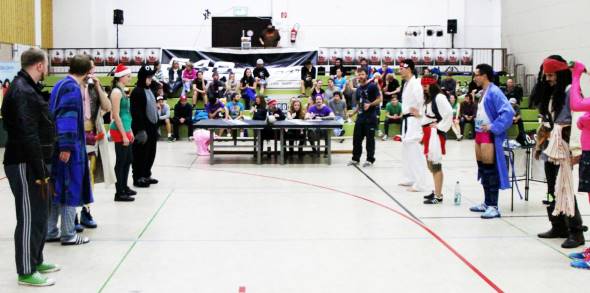 Best Dress Contest
Picture: HEADIS
The biggest Headis tournament of all times will take place on 12/6/2014 in the hometown of Headis, in Kaiserslautern!!!!
We have several Specials and "Geilheiten" for you, that make this year's last tournament unforgettable: The biggest "Rundlauf" of all times, a tombola, where everyone without any exceptions wins a great price and the Secret DJ's team on the after show party are only three of the highlights to celebrate Christmas and Headis with you in December. For all participants the participation fee includes, of course, an event shirt and 2 overnight stays in Kaiserslautern. You can sleep in the hall from Friday to Saturday and from Saturday to Sunday. The entry free after show party goes down only 200 m away from the tournament! Clenched "Geilheit" in one spot!
We want to have as many tournament participants in Kaiserslautern, as never before. New standards are put. Everybody is invited to this unique event! We are equipped with more than 20 tables so come to Kaiserslautern with anyone you can grab and be present when the special mood of this tournament hits its peak!
All specials on glimpse:
Every player that "brings" another player (to his /her first tournament) receives a tombola lot. For every additional player you get an additional lot! Every lot wins and the prices are really awesome!!! The new player does not come away empty-handed of course!
We play the biggest "Rundlauf" of all times! The most successful male and female players receive a Wildcard for the Headis masters on January 17th!
Best Dress Contest: Show the nicest / most mad outfits on the tournament and enjoy the other costumes. (Dressing up is not a must!)
During the tournament a live painting is made. The winners take parts of the paintings home with them!
All together prices worth more than 1000€ will be handed out to you!
Tournament and overnight stay in the same location. Party 200 m away. 2 overnight stays! Friday till Sunday.
Free entry to the after show party for everybody. All players and all visitors pay no entry to the after show party!
Auction for the Headis charity project Headição
4 DJs rock the party! One DJ will lead you the whole evening and in between 3 DJs of our Secret DJ's team hold their individual sessions!
The final performance of the best costume bearers takes place in the middle of the after show party!
---
---