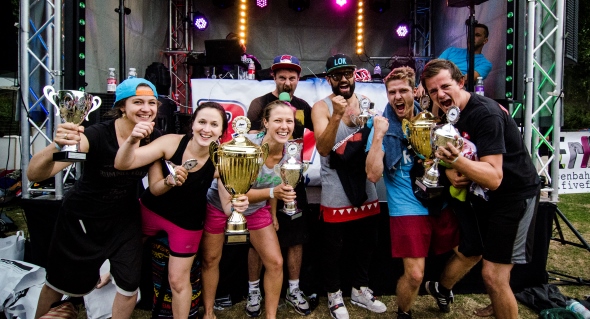 There were only winners at the WC
Picture: Falk Venten
The Headis community has been expecting to become part 10th Headis World Championship for weeks. Players from 12 nations pilger to Kaiserslautern. Some of them more than 800 kilometers by car and some other 350 km by bicycle for writing history.
After the qualification on Friday remained 145 participants and was so the biggest Headis competition of all time. In the spirit of tradition the tables was named by the legends from WC 2006.
Of course the tournament was flooded by highlightx even in the early games. For example fight Headbrötchen vs. Headi Potter already in the 8th final. A match that bribed with athletic, fashionable and rhetorical components. In general the atmosphere was heated like an boiling pot by the shouts and screams from the players and also by the audience. Additionally there were more volleys, dives and dust than ever before.
The quarter finals in the overview:
Lauchgesicht – Spiff
Heineken – Nosebraker
Wurstverkäufer – Headbrötchen mit Zwiebeln
Headset – Headsinfarkt

Red Hot Chili Headers Missing Pepper – Headité
Headi Bobics junger Tatapan – Mini Milk
Klausi – FuWaTe
Schmoffkopf – Head Sparrow
Since this moment all matches took place on the center court table which made the atmosphere became hotter again and the pressure for the player grows to the peak. Maybe this was the reason for-why the new comer FuWaTe from Hannover lost one´s cool and old hand Tatapan ran through to the winner´s podium on position three.
Another spectacular highlight was the match between Headsbrötchen against Heineken, maybe the match with the highest number of volleys, all time. That is pure Headis!
The female finals was stamped by tight sets and at the end Missing Pepper was the luckier one and so Head Sparrow had to celebrate her second position together with Pepper in the pool.
The male final took place between two of the best Headis player of our time Headsinfarkt and Lauchgesicht. Headsinfarkt dominated the first set and started lead the second with 7:0 but Lauchgesicht accepted the fight and compiled the 7:7. Headsinfarkt wasn´t very impressed enough bottle it was allowed to call himself the new world champion and winner of the biggest Headis tournament of all time. This historical victory induced frenetic exultation and raised to a legendary party up to the early morning.
Congratulations to the winners!
---
---