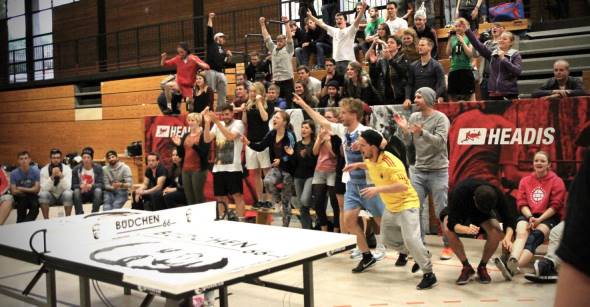 ecstasy in Cologne
Text: Wurstverkäufer | Picture: HEADIS
After the change of generationen in the Cologne Foreheads we expected a very special clash. Because Headbrötchen, Schnoffkopf, Wurstverkäufer and CO. had the whole responsibility on their own and intended to celebrate a triple tournament for achieving the golden standard of the world cup series.
With 124 attendees and 150 viewers around the 66 center court is the tournament in the gym of "Gynasium Kreuzgasse" one of the big players in the Headis-circus. All together about 500 people visited the happening and had the chance to win more than 100 presents in the tombola.
The girls of cologne surprised in a very successfully way. On their way to the final, The Big Bad Head and Headbrötchens Zwiebel even kicked the incumbent world champion Red hot Chili Headers missing Pepper out of the competition. At the end the winner of the cologne girly derby is called Headbrötchens Zwiebel after accurate game play!
But the dramatic peak of the weekend was the male final between Lauchgesicht and the world series leader Headsinfarkt. The audience was everything but not disappointed after a lot change of leadings, insane rallies in these ecstatic atmosphere. But finally Headsinfarkt was the lucky who could use the home advantage and won the cup.
Later the after show party continued to the Kiez of Cologne up to the early morning. We delight to come here next year again!
---
---