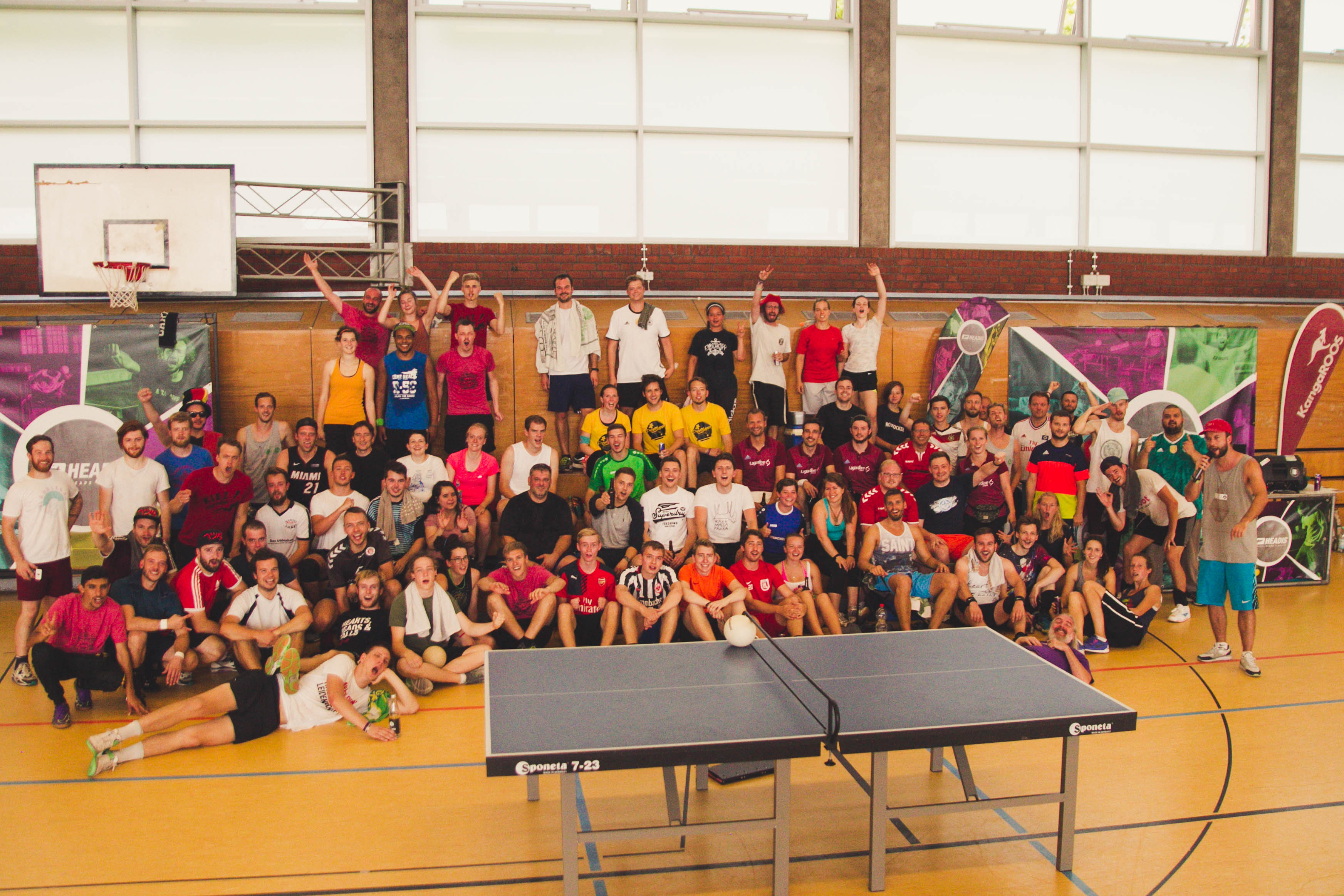 Wunderschöner Cup 2018
HEADIS
80 boys and girls visited Hamburg to play a headis tournament in the harbor city for the second time. The hot weather made the headis cup to one of the sweatiest ones of the last years. 
The whole weekend started on friday evening where the first players met each others for a little barbecue at the Hochschulsport Hamburg. At this point everybody already knew: It was hot and it was going to be even hotter the next day.
But the heat didn't hold the players back to travel all the way from cities like Bochum, Rostock, Kaiserslautern, Cologne, Saarbrücken, etc. to Hamburg to play the first Hansecup since 2015. Everybody was ready to win one of the awesome glastrophies.
The men's competition had some great matches. The first very close one happened between Headsdugern and Wurstverkäufer. Headsdugern came very close to beating the Headis oldie but at the end Wurstverkäufer was a bit to strong for the guy from Rostock and won the match in three sets.
At the end there were no big surprises. Headsinfarkt, Pressure Pete, Sniper Schorsch and Lauchgesicht reached the semifinals and at the end Headsinfarkt won his second title in Hamburg against Pressure Pete.
Men's Ranking:
Headsinfarkt
Pressure Pete
Sniper Schorsch
Lauchgesicht
We heard it a lot this year: the girl's competition is as close as it has never been before. You don't know what where talking about? Just take a look at this: Headländerin (Rostock, #23 in the world ranking) managed to win her group against players like Spiff (former: Tatapan) and The Big Bad Head. What a tournament!
But at the end there where three known players that where fighting for the title in the semifinals. Cabezaza played a great tournament and managed to win it all at the end.
Girl's ranking:
Cabezaza
Klausi
The Big Bad Head
FuWaTe
A big thanks goes out to everyone who came all the way to Hamburg and to the girls and guys from Hamburg that organized the whole thing and brought a great tournament to Hamburg,
Next stop: Bochum – Glück Auf Cup
---
---