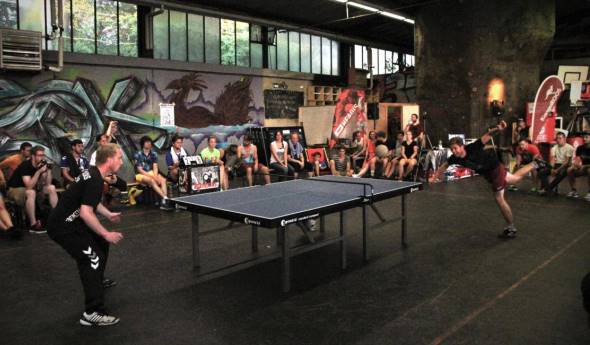 Great atmosphere at the Olympus
Text: Lauchgesicht | Picture: HEADIS
What would be the Headis tournament series without Göttingen? This year the gods of Headis gave a impressive answer of this question.
First friendly matches began Even Friday evening after preparing the staff for the competition. After this it was obvious that the bars and pubs of Göttingen have to be assaulted tonight.
The next morning 80 participants celebrated the annual 4 stars world cup up to the Olympus.
In the group of the girls Mini Milk persuaded with a lot of fast balls and pushed herself up to the finals where she met to Head Sparrow. Head Sparrow showed that her forehead wasn´t rusted and beat on her way to the final Headinho after Sparrows one and half year long Headis break. The game about position three was Schmoffkopf against Headinho, where Schmoffkopf was in front.
In the exciting final Mini Milk and Head Sparrow fired the balls ike hell allover the table. After the steam was removed the audience celebrated Mini Milk as the winner of the Göttinger world cup.
Even in the 16th finals og the men celebrated some High quality encounters like Snyper Schorsch vs. the youth world champion Nomit.
The double world champions Heineken and Lauchgesicht qualified for the first half final and in the second half final the other double world champion Headsinfarkt showed Spiff that a world cup victory is impossible without beating him. This means the final players was called Headsinfarkt and Heinken, a combination which inflamed the one or the other world cup games and championships before. Specially Headsinfarkt didn´t want to disappiont the audience and won the cup with a strong performance.
All results in the overview:
1st  Mini Milk
2nd Head Sparrow
3rd Schmoffkopf
4th Headinho
1st Headsinfarkt
2nd Heineken
3rd Lauchgesicht
4th Spiff
Thank you for this unbelievable happening, we rejoice to see you hear next year!
---
---